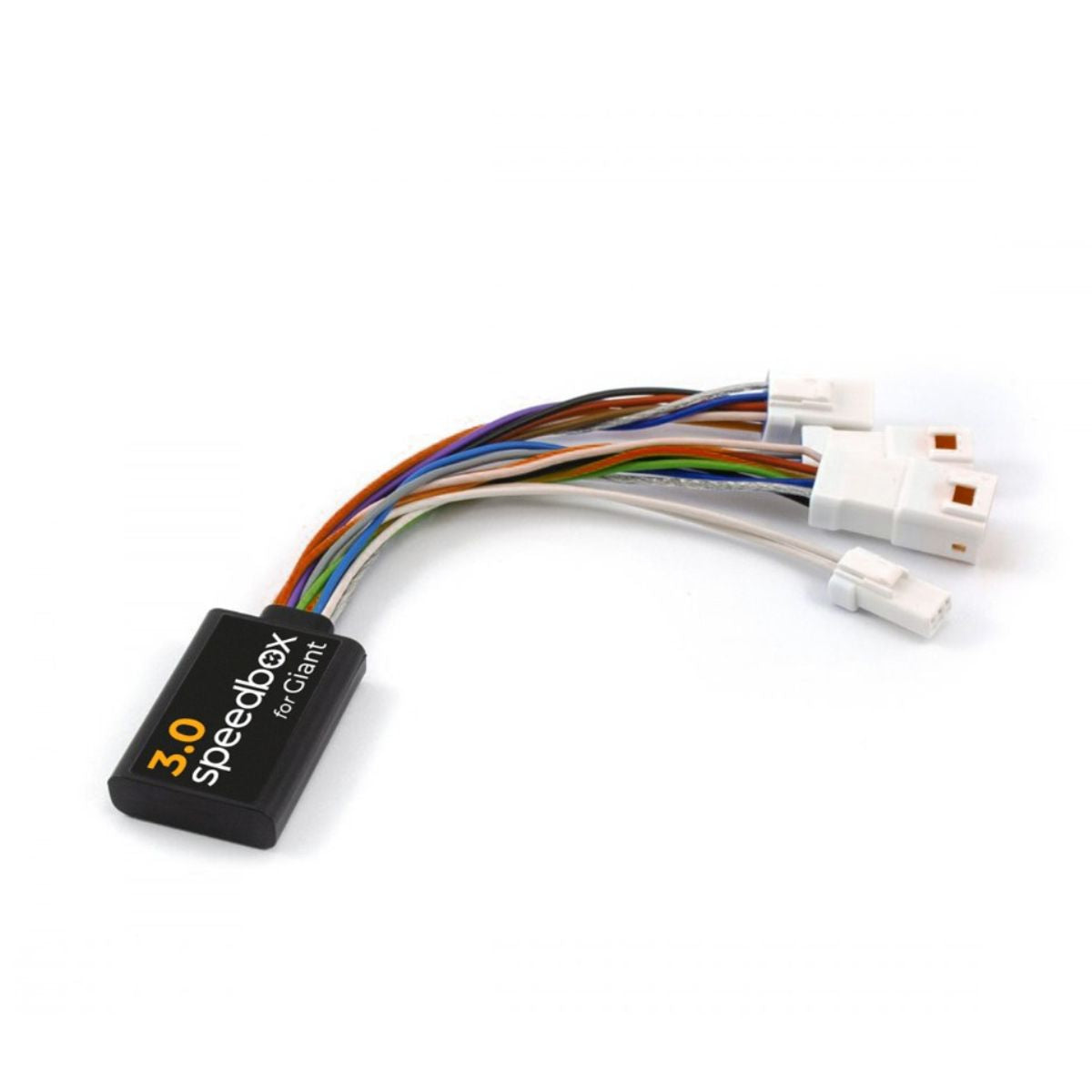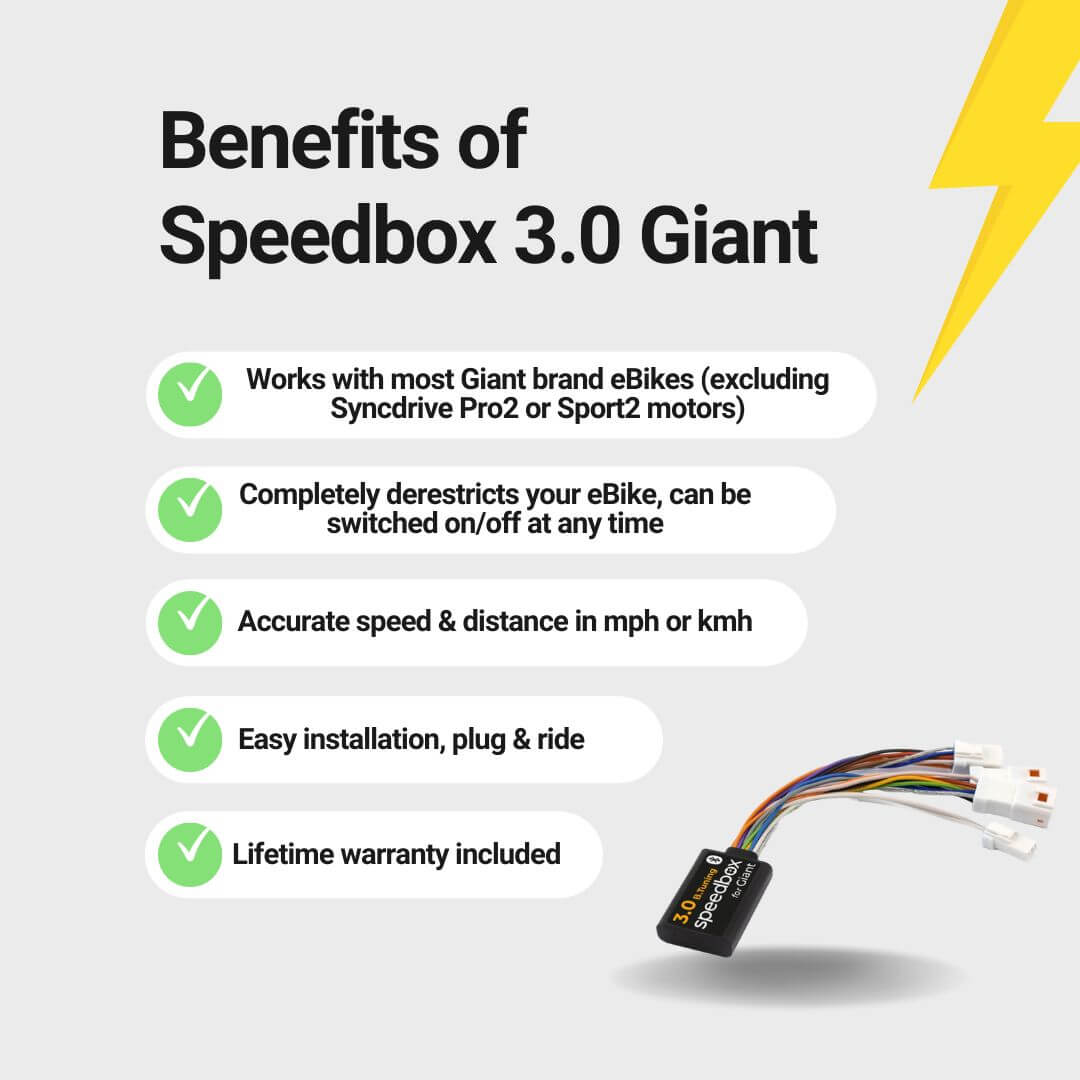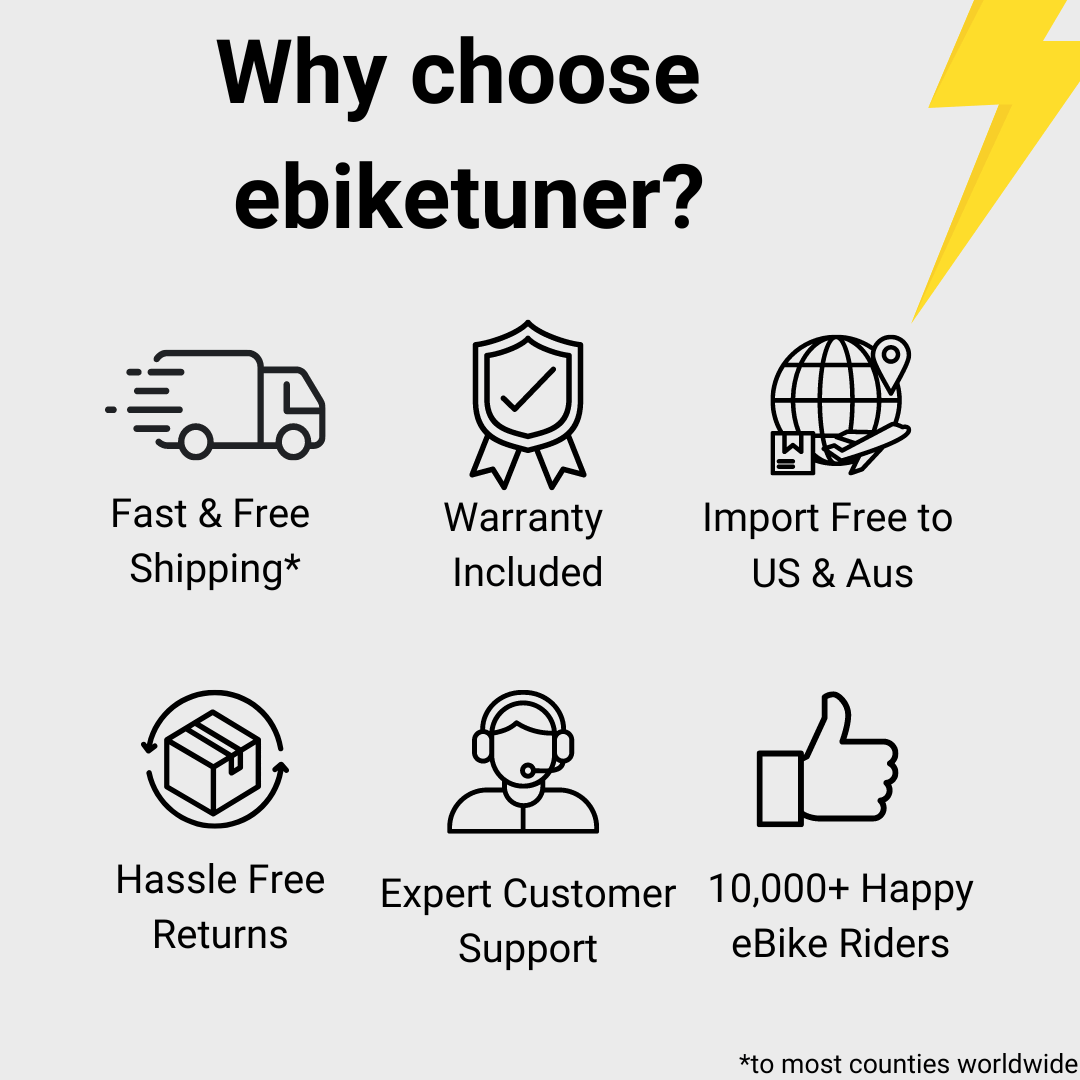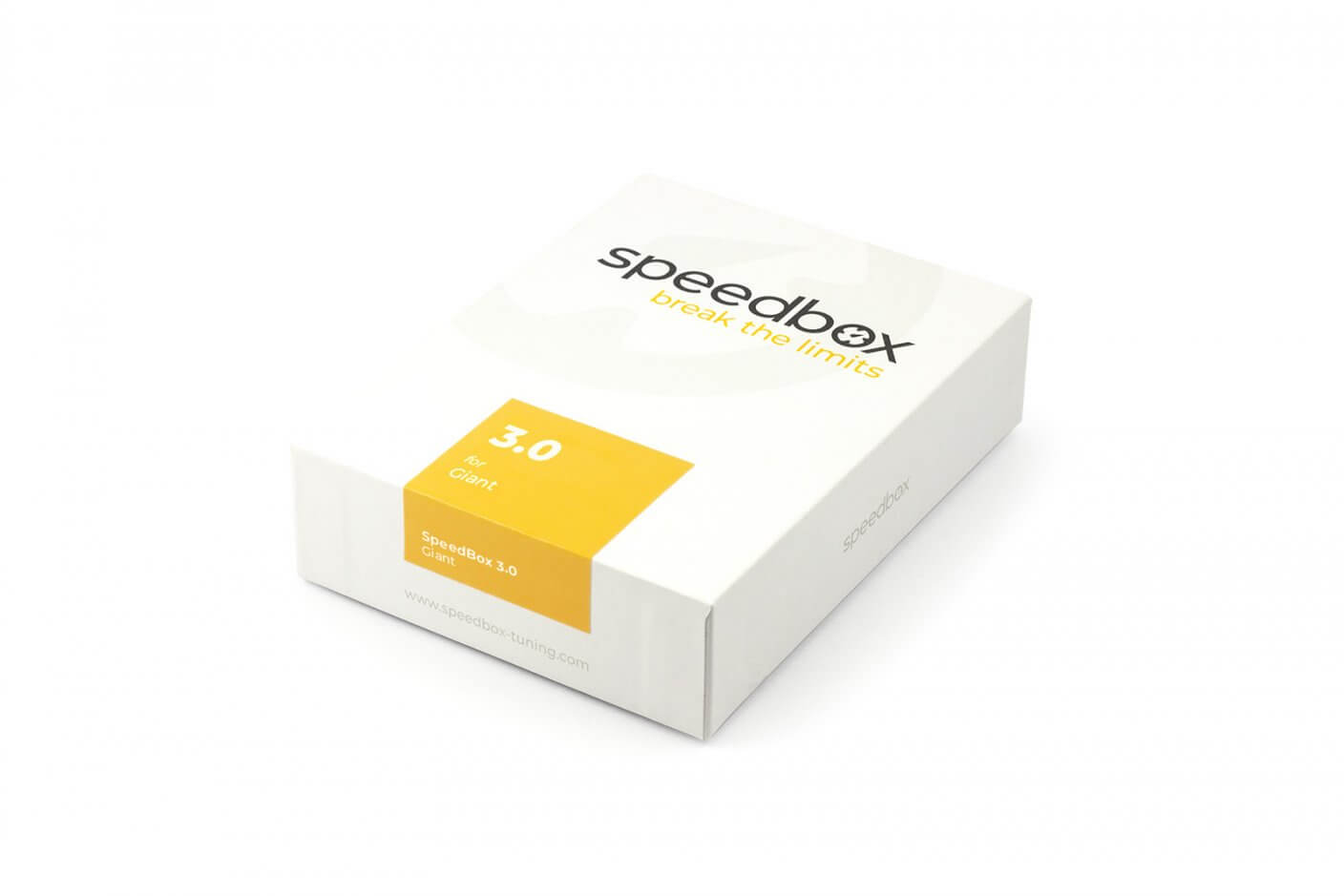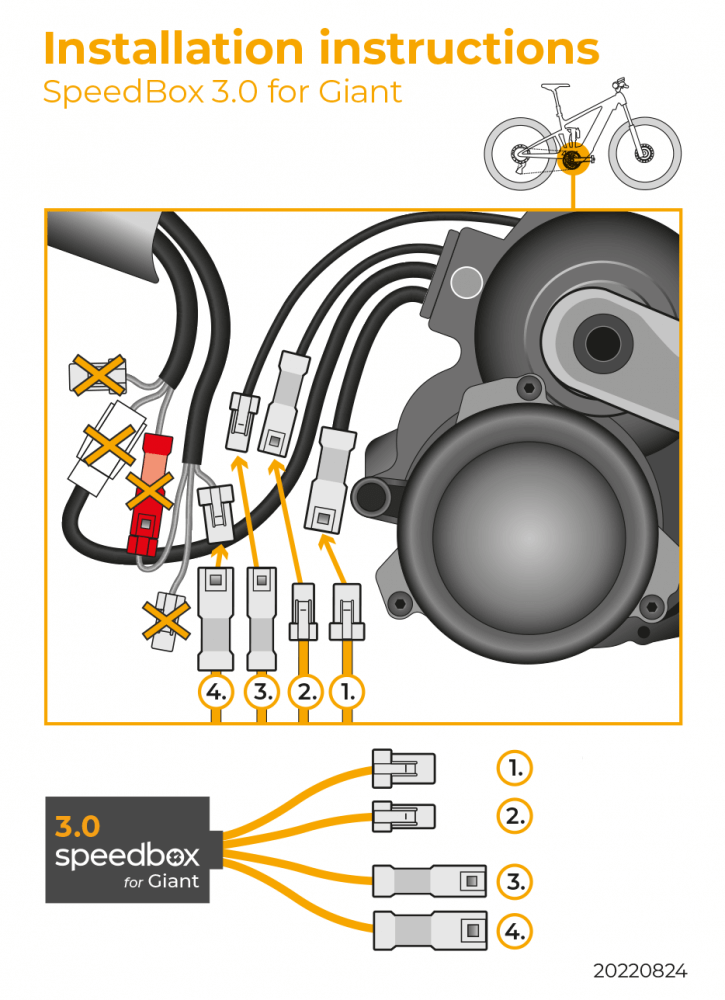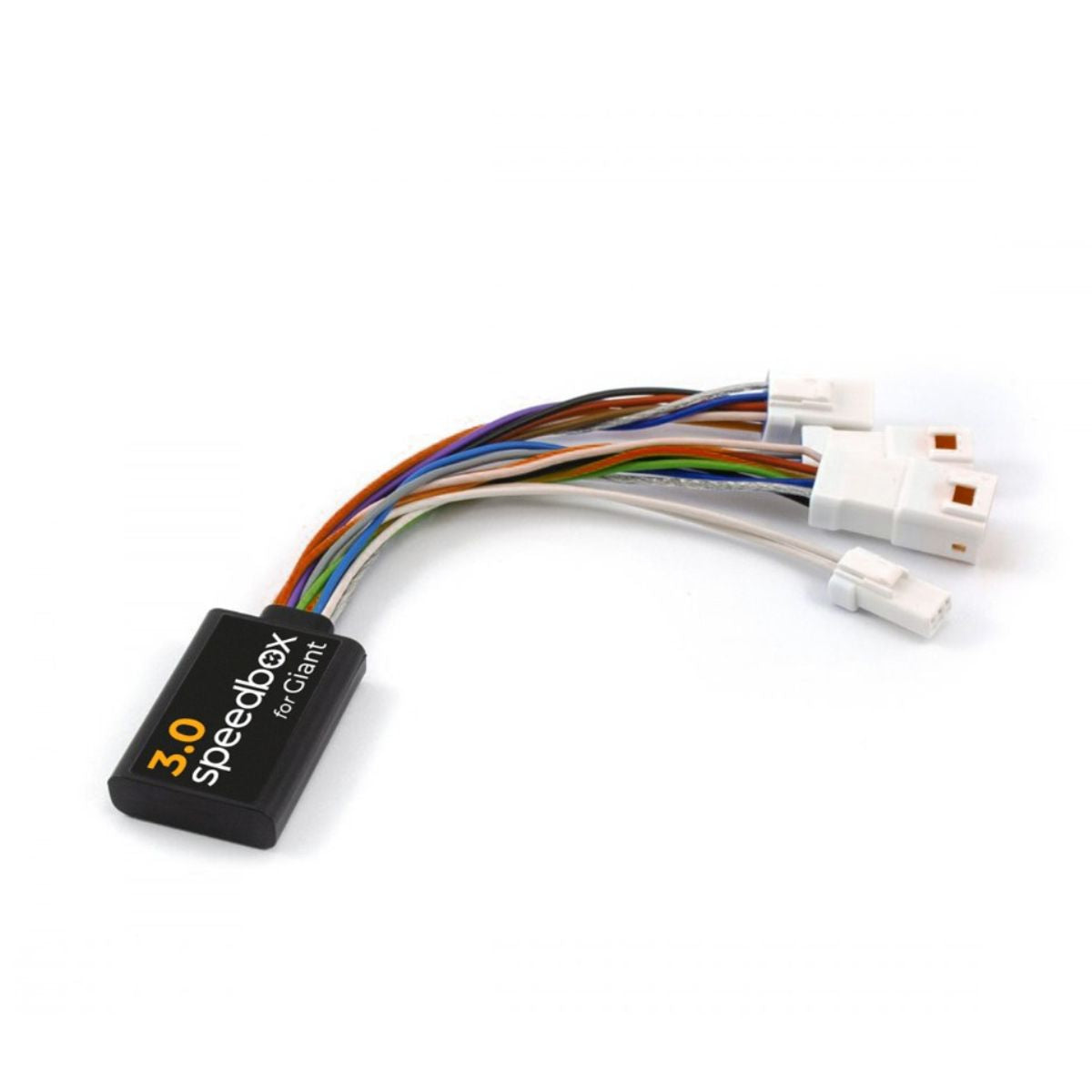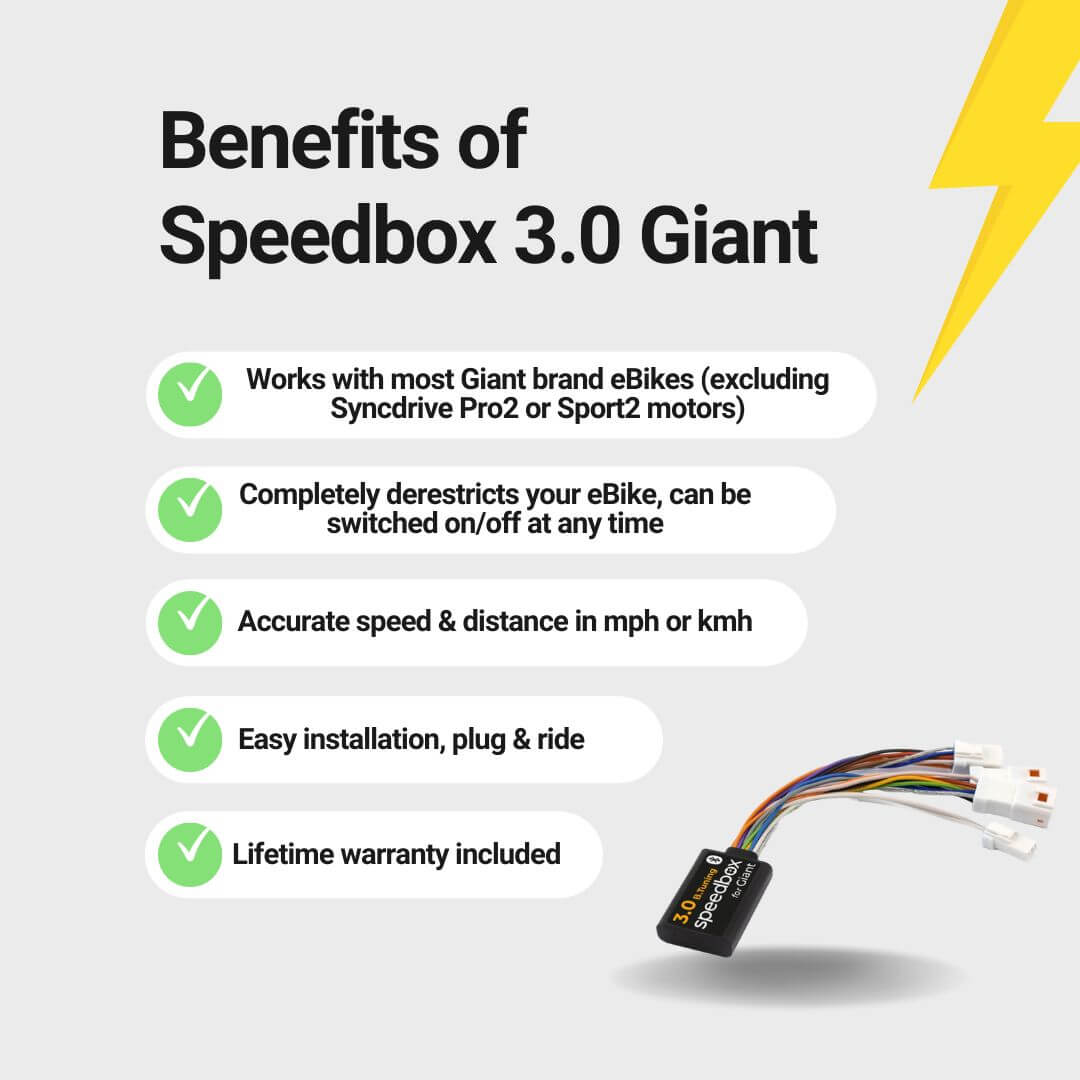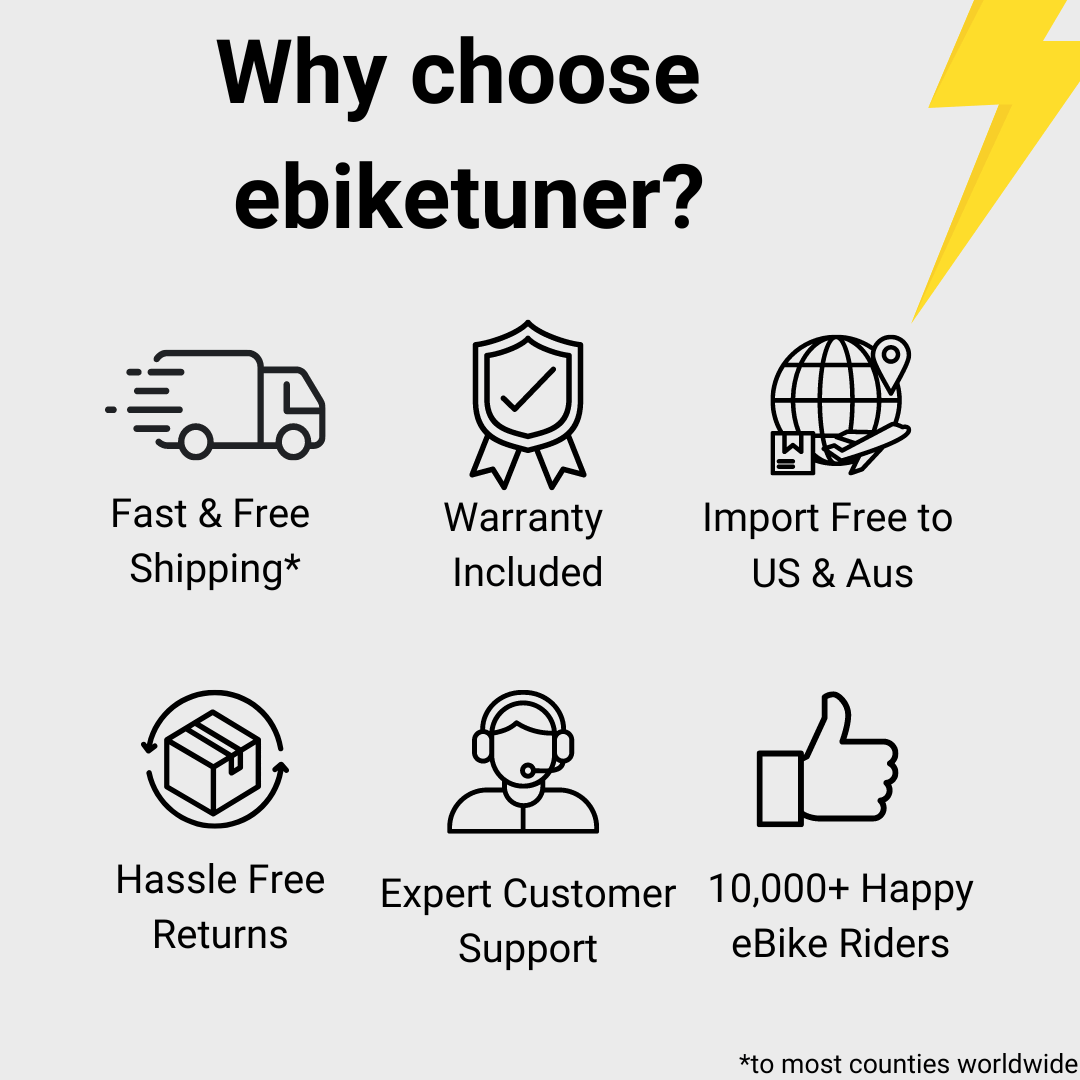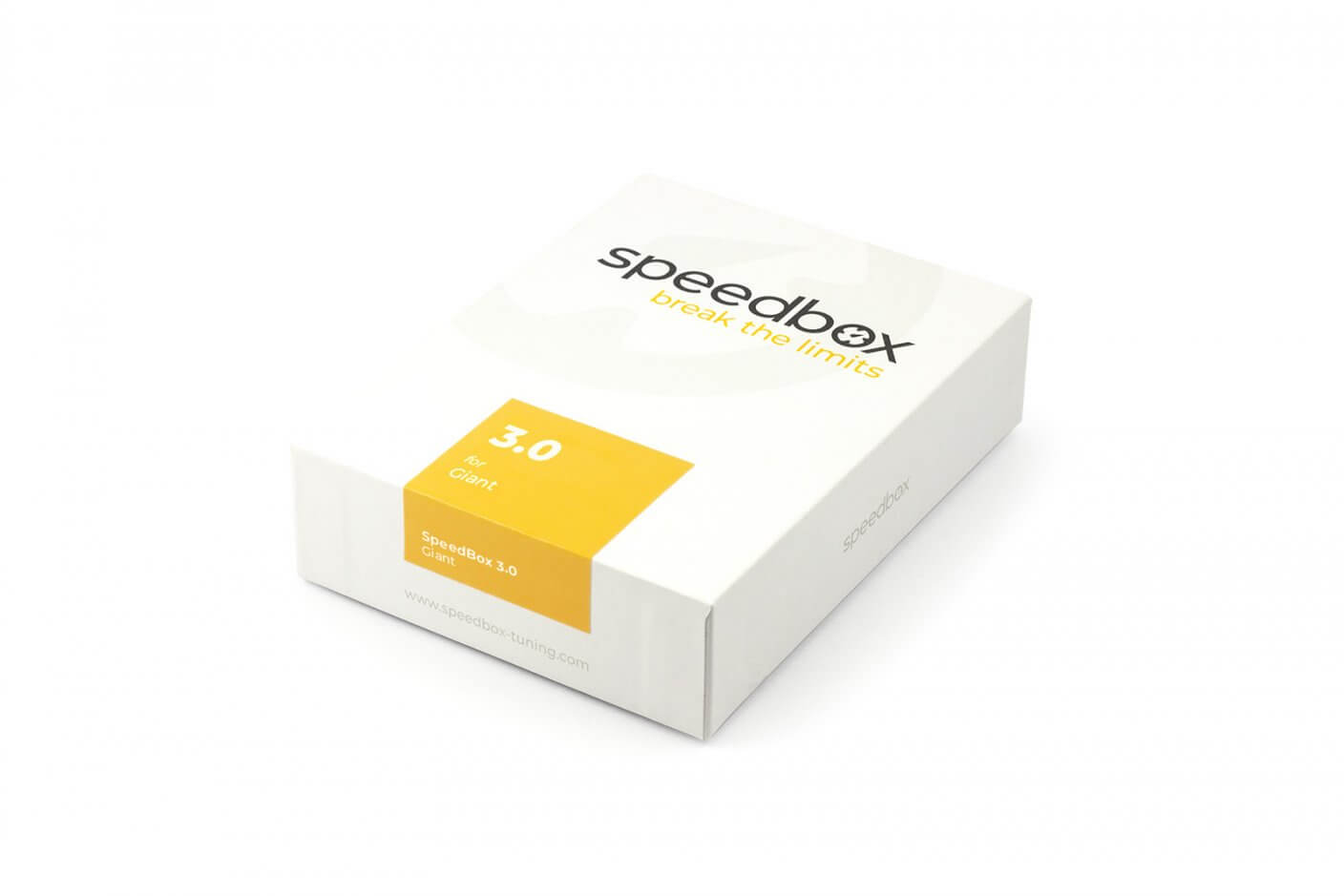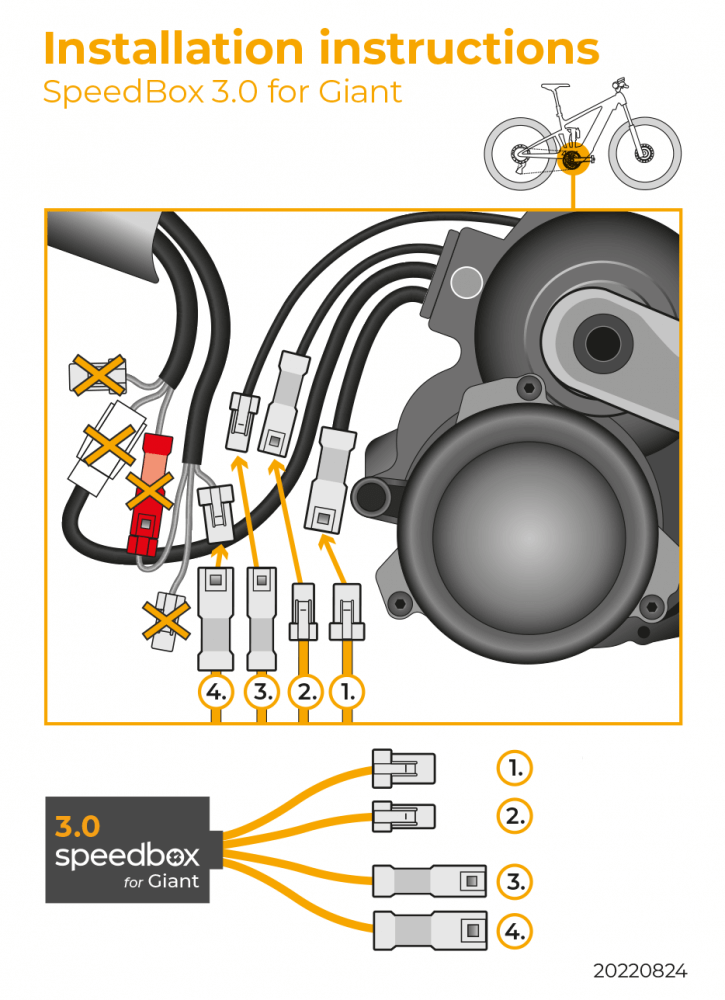 Regular price
$229.00 USD
Regular price
Sale price
$229.00 USD
Unit price
per
Sale
Sold out

Fast & Free Shipping
Worldwide*

10,000+ Happy eBike Riders

Lifetime Warranty Included

Hassle Free Returns

Expert Rider Support
Enjoy derestricted riding with this Speedbox 3.0

Works with any Giant eBike fitted with a Syncdrive Sport (70nm), Pro (80nm), Core (50nm) & Life (60nm) motors. Once fitted, this Speedbox gives you a true plug & ride experience. It's completely undetectable and can be switched off at anytime!

Not compatible with software from 2022 onwards
Don't miss our multi-buy discount when you buy 2 or more eBike tuning kits!
View full details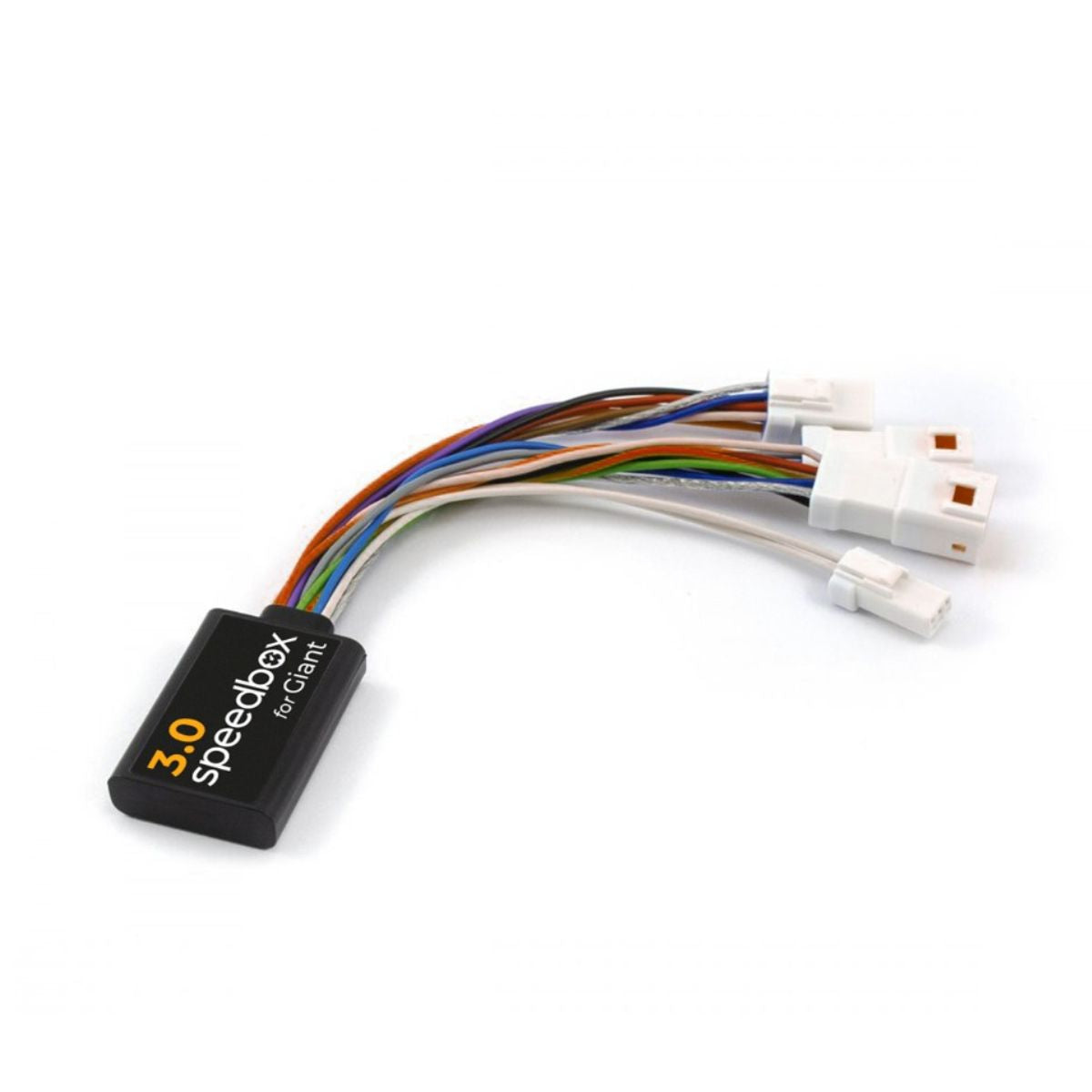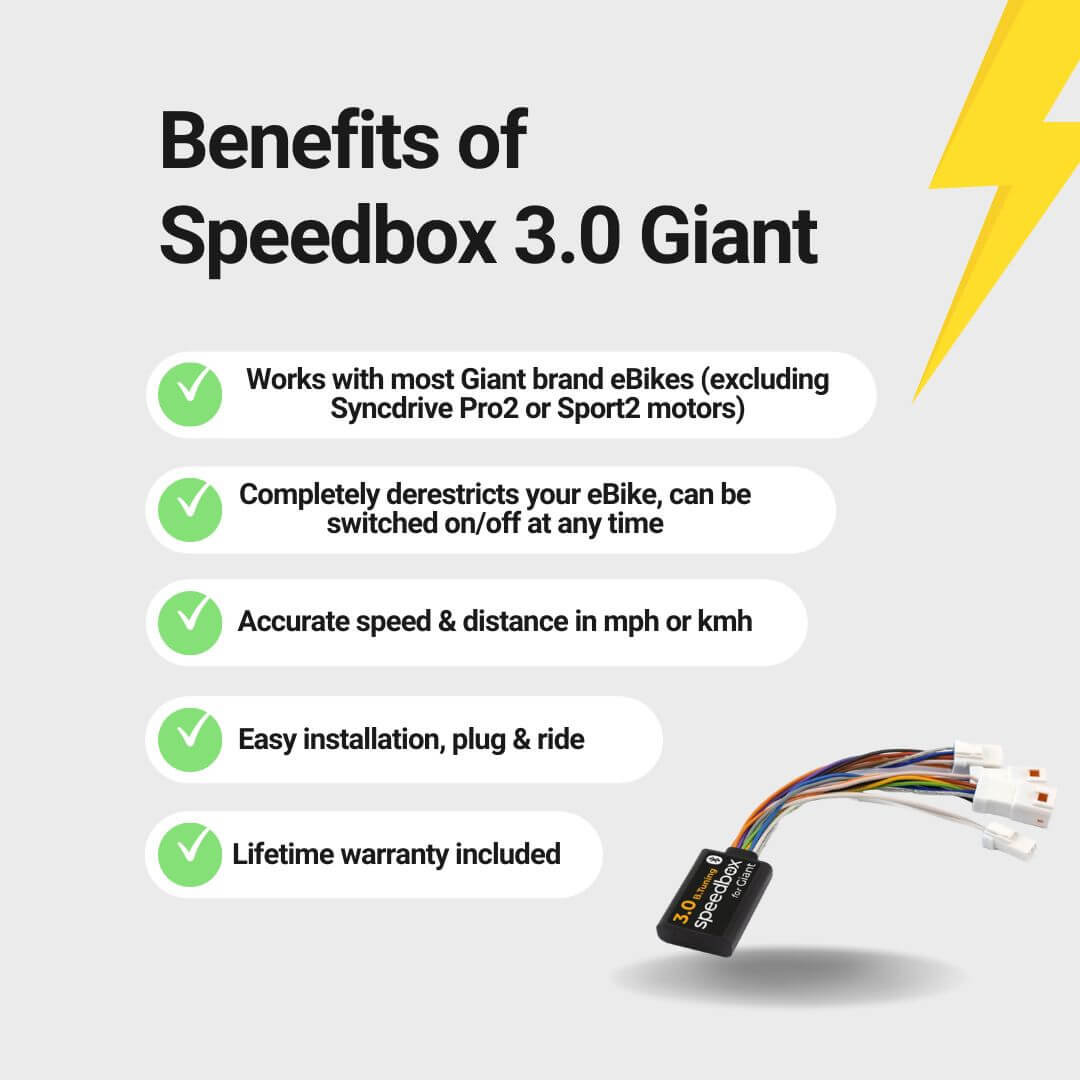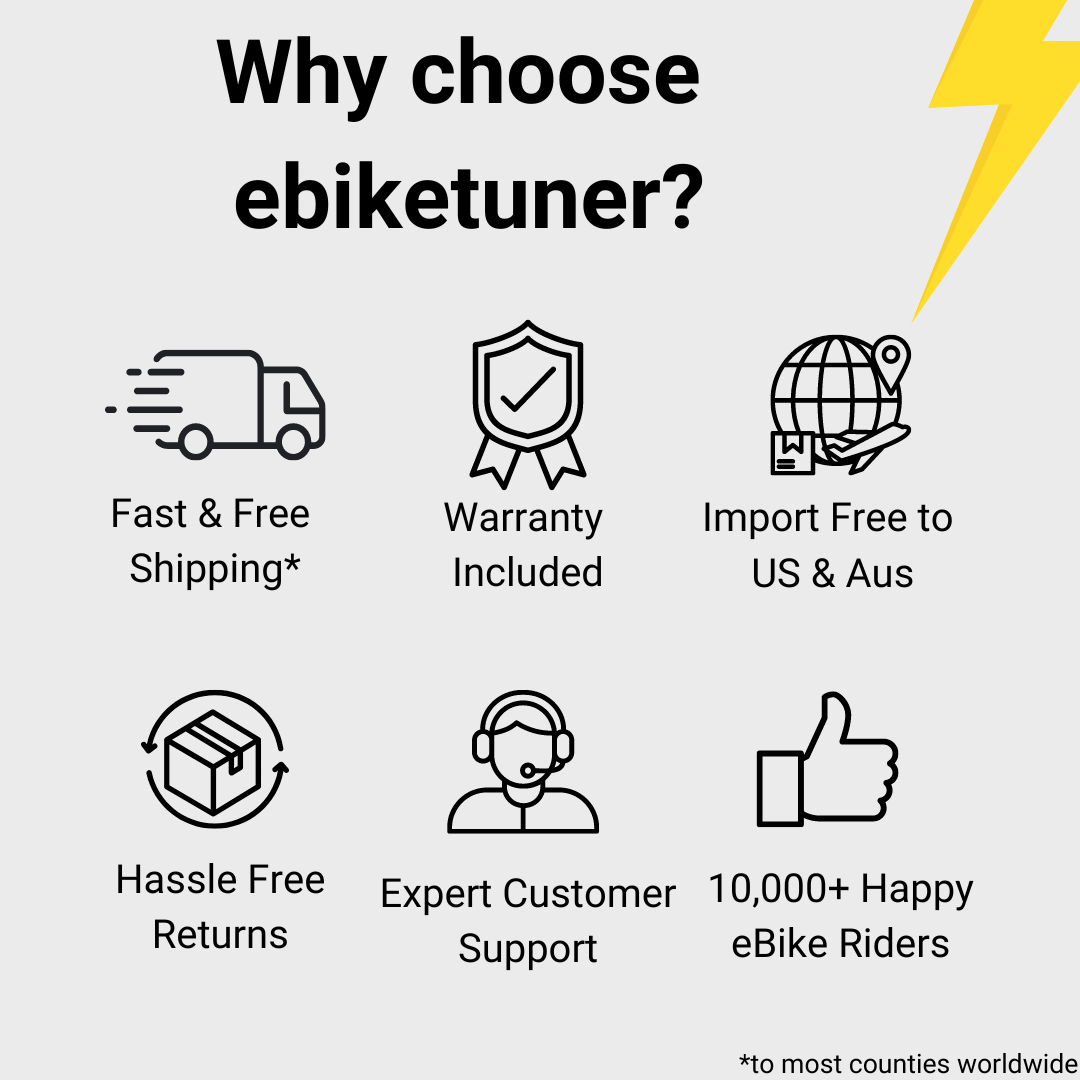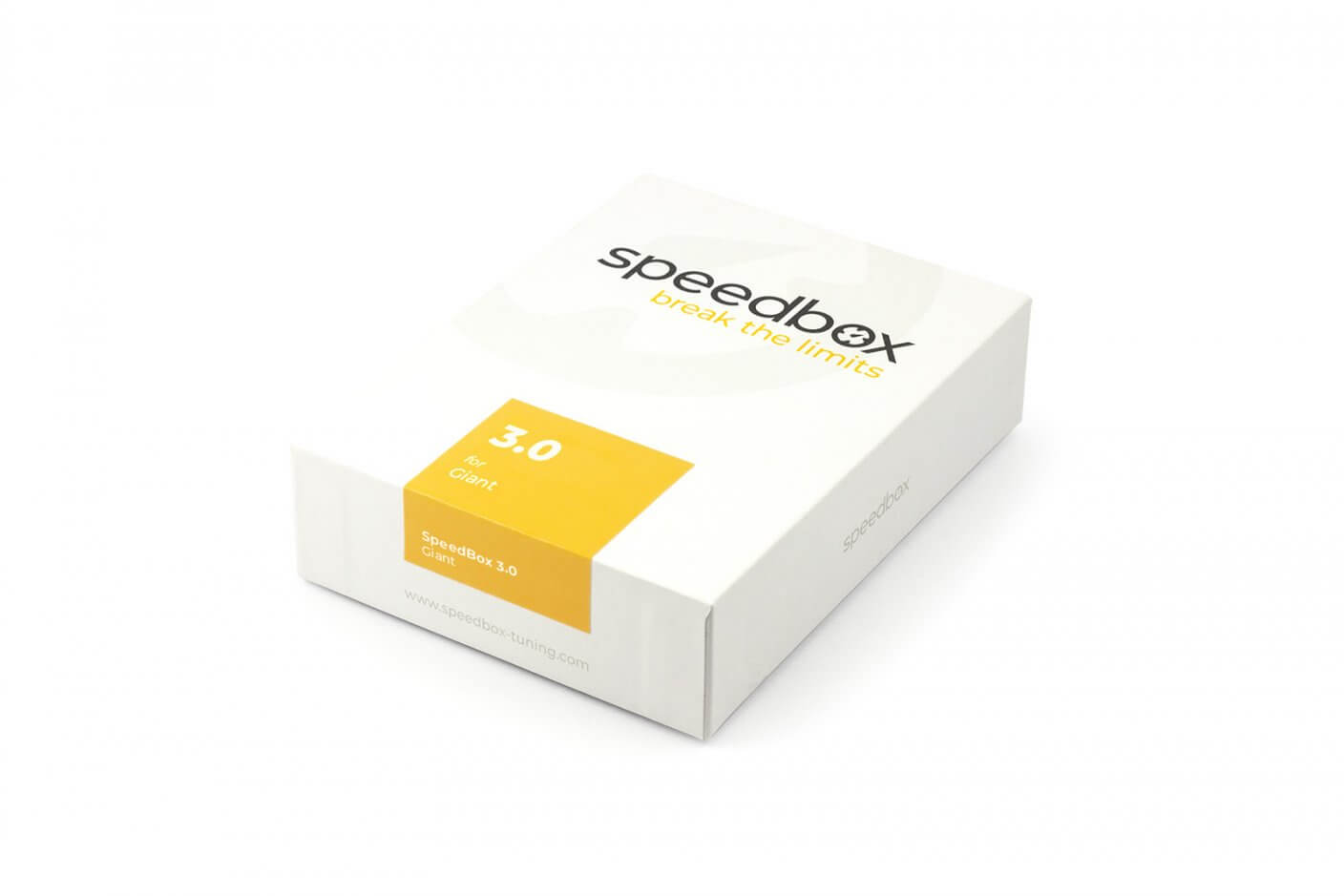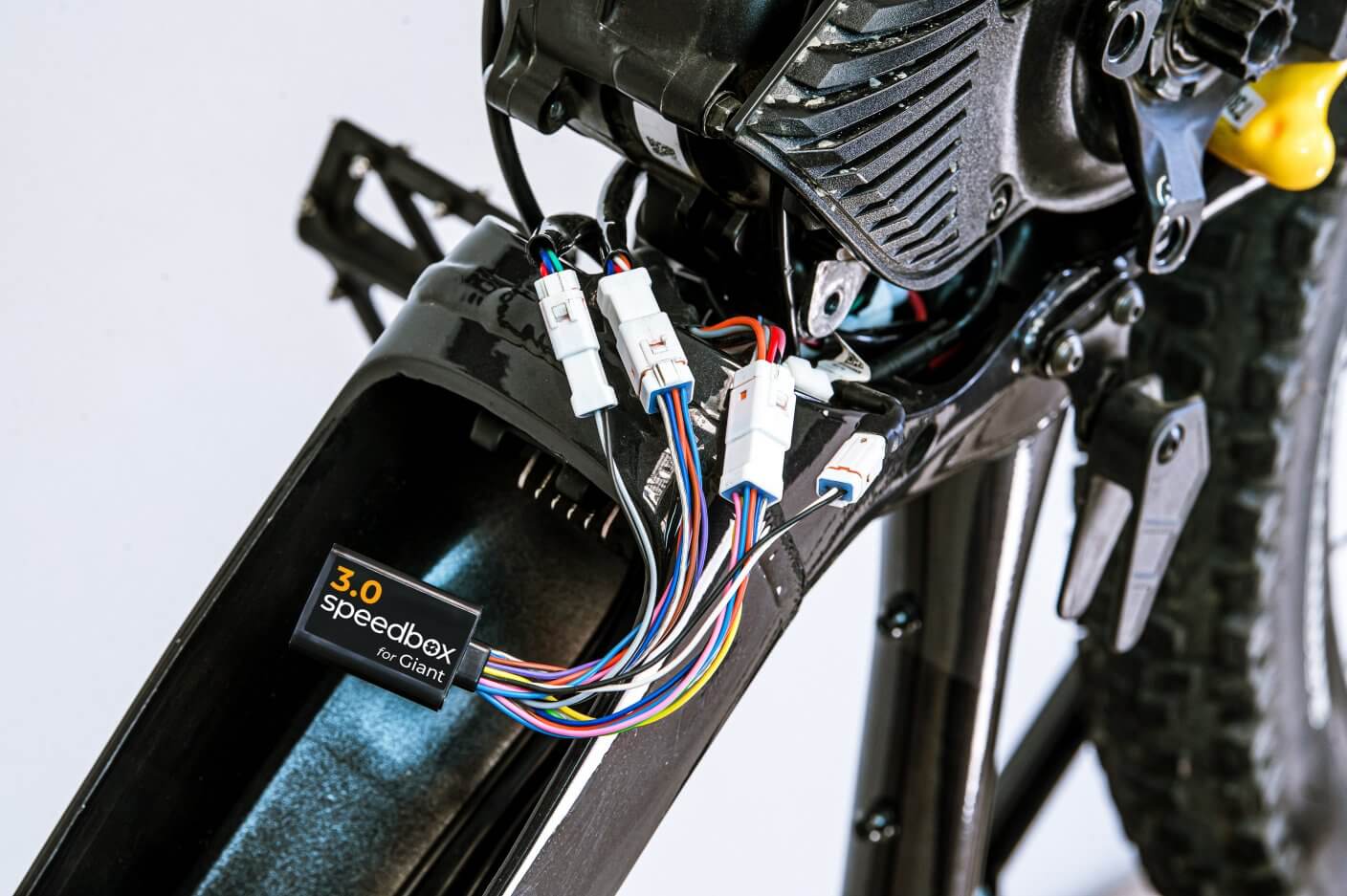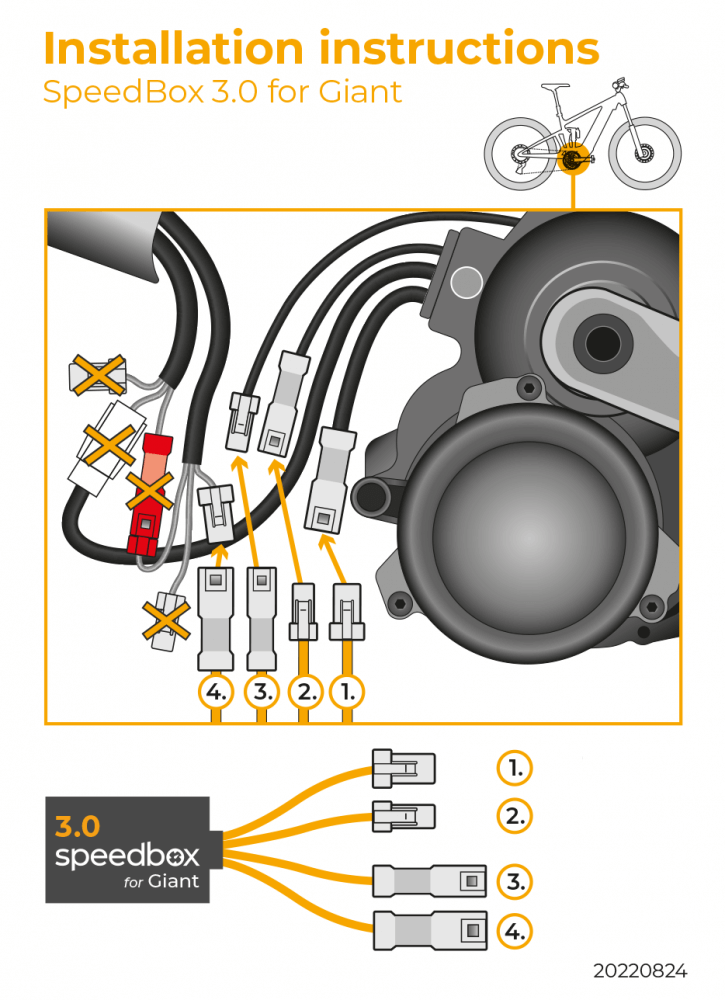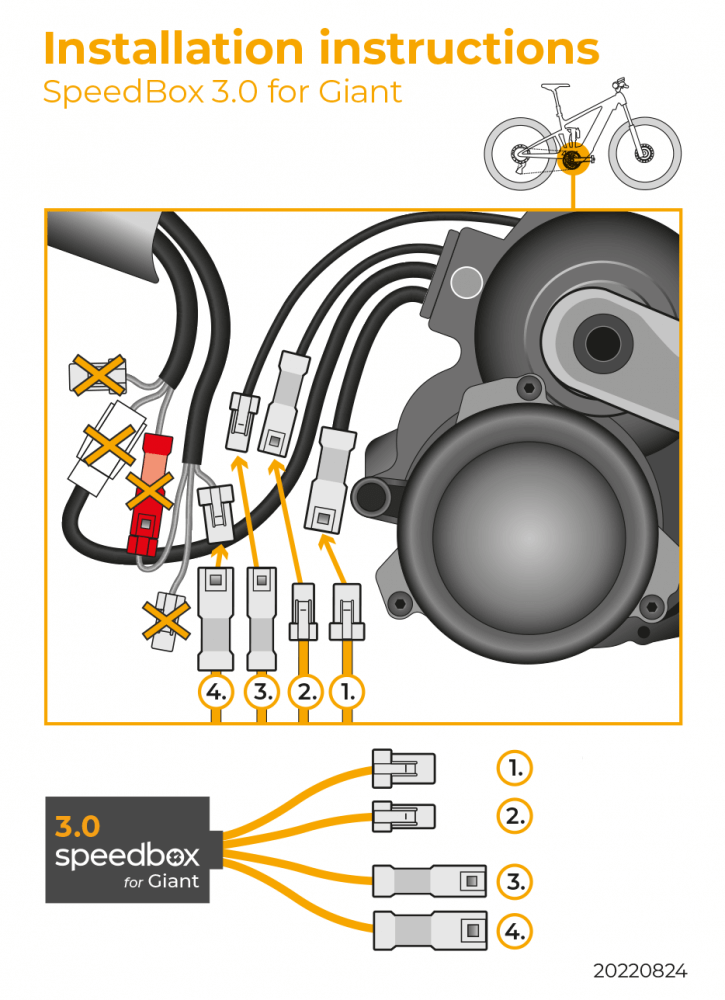 Frequently Asked Questions
What eBikes is this compatible with

Works with any Giant eBike fitted with a Syncdrive Sport (70nm), Pro (80nm), Core (50nm) & Life (60nm) motors.
Not compatible with any of these: Giant eBike with a Syncdrive Pro2 (85nm) or Sport2 (75nm) motor typically found on 2023 models. 2022-23 Fathom, Talon & Explore
Why choose this Speedbox

Speedbox have been developing eBike tuning kits since 2014. All Speedbox tuning kits are manufactured in the Czech Republic to the highest standard.

Here's why riders love this Speedbox


Plug & ride derestriction once fitted
Completely removes 15mph restriction, also works with US spec ebikes with 20mph limit
Full use of the display, with accurate speed/distance in kmh or mph
All ride modes work exactly the same, including 'walk mode'
Lifetime warranty with all Speedbox tuning kits
Shipping & Returns Policy

Fast & free shipping to UK, USA, Australia & Canada

All orders are shipped fully tracked from our UK, US and Australian warehouses

Import-free shipping to the USA, Australia & Europe

Free shipping does not apply to EU and EEA countries

In the unlikely event you have trouble with your order, or you just change your mind. We offer easy, 30 day returns. 

Detailed Shipping/Returns info here
How to avoid error codes

Unfortunately no tuning kits are 100% guaranteed. You can reduce the risk of triggering an error code by following these simple steps:

If possible, remove your battery before starting your installation

If your eBike uses a smartphone app, switch off automatic updates before installing your tuning kit

Remove your tuning kit before doing any software updates

Avoid activating/deactivating the tuning kit mid-ride

Keep your average speed below 35km/h

On some eBikes such as models with the Bosch Gen4 motor, a countdown is required to ensure the correct milage is recorded. On completion of your ride allow the bike to turn itself off
Important Legal Notice

Existing eBike Warranty:
The use of any tuning products may void the warranty of your eBike. We take no responsibility for any damages resulting from the use of any of our products.

eBike Laws:
Electric bikes equipped with tuning devices are not allowed to be used on public roads, cycling paths and public places. Electric bikes equipped with tuning products can be used exclusively on private property and entirely at one's own risk. Under the EU's EN15194 regulation it is illegal to ride your eBike on public roads/cycle paths with a tuning device fitted. 

By purchasing a device from eBike tuner ltd you agree that eBike tuner ltd cannot be held liable for any damage, injury, fine or cost to you, your eBike or anyone else involved in your particular incident.